Flowing Wells Plaza
Our first venture outside of New Jersey, Flowing Wells Plaza presents an interesting uniqueness in comparison to our east coast shop retail centers. Anchored by Pappy's Diner, Catering, and Event Center, Family Dollar and El Herradero Market and Grocer, this neighborhood shopping center caters to a highly active and diversified local population, which exceeds one hundred thousand residents within a three mile area.
The retail business owners that occupy Flowing Wells Plaza bring value and convenience to thousands of families that live or commute within the surrounding Tucson Metro area. Tenants such as Marksman Institute, Rodney Young Insurance, and Hollywood Barber College offer services that meet the lifestyle and self-improvement needs of their clients. Tucson Coinless Laundry facilitates some specific routine tasks, while Liberty Tax and Title Max offers an added dimension to shoppers to acquire financial advice for short term borrowing opportunities.
Strategic located at the intersection of North Flowing Wells Road and West Prince Road, Flowing Wells Plaza has exposure to a traffic count of nearly 50,000 vehicles per daily, along with nationally–known area tenants Wells Fargo Bank, Walgreens, and Checker Auto Parts.


Interested in learning more about Florham Realty Management, LLC
and the properties or the investment opportunities we provide?
Contact us today for more information, or call 732-583-1200.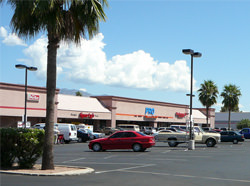 Location

1280 - 1370 West Prince Road
Tucson, AZ 85705
Downloads
Marketing Materials
Directions